Biography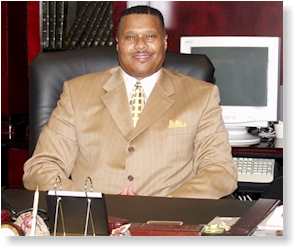 Dr. Raymond M. Gordon Sr.
Raymond
M
aurice
G
ordon
grew up and attended school in South Philadelphia. After graduating from South Philadelphia High School in 1968, he entered the U.S. Air Force and served as a Communications Specialist for seven years, doing top-secret work for the Military. He was honorably discharged in 1974 and was subsequently employed by the Federal Government for seventeen years holding several positions, the last of which was Communications Specialist.
Answering the call to ministry, Pastor Gordon was licensed and ordained to preach the Gospel in 1978. He was mentored and developed under the watchful eyes of his Pastor, the late Dr. Charles Walker, former Pastor of 19th Street Baptist Church in Philadelphia.
Pastor Gordon attended the Philadelphia College of Bible where he earned a Bachelor of Science Degree in Bible. Later, he attended Graduate School at LaSalle University majoring in World Religion. Pastor Gordon received his Doctorate of Divinity from Tennessee School of Religion on November 15, 1998, and an Honorary Doctorate of Sacred Theology from Philadelphia Biblical University on May 7, 2005. He has taught at three Bible institutes, as well as the National Baptist Convention USA, Inc., and the National Baptist Congress of Christian Education where he currently serves as 3rd Vice President.
For the past twenty-five years, Pastor Gordon has shown himself as a spiritual man of integrity, transparency, and accountability. Under his current pastorate, the St. Matthew's Baptist Church congregation has grown from 150 to approximately 12,000. The church campus has expanded to include a Family Life Center, as well as a 45,000 sq. ft. Community Development Center. As Founder and President of Perfect Peace Ministries, Pastor Gordon spreads the gospel to thousands through TV (satellite/cable), radio, and the internet.